Pterodactyl man Lee wins "The Apprentice"
By Avril Ormsby
LONDON (Reuters) - Milkman's son Lee McQueen, whose party trick is a reverse pterodactyl impression, has been hired as Alan Sugar's 100,000 pounds-a-year "Apprentice," beating hot favourite Claire Young in the final of the business TV show.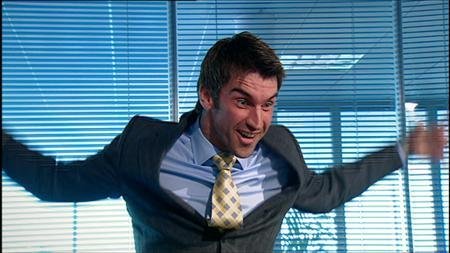 Sugar appointed the recruitment sales manager after he overcame his nerves in the final task which involved creating and launching a new male fragrance.
"Lee, you're very convincing," said Sugar. "You are very, very, very convincing. I've concluded ... Lee, You're Hired!"
The 30-year-old was popular among the other Apprentice candidates, but in previous episodes it was revealed he had lied about his academic history on his CV and had been accused, along with others, of bullying.
But he convinced Sugar to take him on after impressing with his hard work and determination.
"I have consistently delivered throughout this intense process," he had told Sugar in the final boardroom scene.
"You should hire me because I've demonstrated over the last 12 weeks my sales ability, my man-management ability and leading by example."
Sugar fired Helene Speight and Alex Wotherspoon in the final, which this time had four candidates rather than the usual two.
Despite saying they were happy to work with each other, the pair were moody, and Helene showed signs of cracking under the pressure.
Sugar's aide Nick said: "Yesterday was the one of the most depressing days I've had to endure."
Lee and Claire, who had been on the same winning team, then faced each other in the boardroom.
Claire, a 29-year-old senior retail buyer, who had been branded by Sugar as "gobby" in the earlier episodes, told him: "I came into the competition with a huge amount of drive, I was going at 100 miles per hour and I was going to cause an accident.
"What I've learnt to do is be more calm and considered. I want to become better at business and I want to become a better person ... I feel that I have got all the pieces of my jigsaw together, that I'm ready to do anything."
Previous candidates returned to help the two teams. Michael Sophocles and Simon Smith championed Claire, while Jenny Celerier said Lee should win.
"He's such an amazing guy: this guy opens doors for people, no matter what has happened ... he has remained a gentleman," she said.
"That is hugely important not only in life but business as well."
(Editing by Steve Addison)
© Thomson Reuters 2022 All rights reserved.