Online clothes shopping: Europe outpacing U.S.
Feb 8 - When Melanie Holtkotter, 29, wants to freshen up her wardrobe, she does so from the comfort of her home in Lippstadt, Germany rather than shopping at downtown stores -- a signal of tougher competition ahead for U.S. fashion retailers already established online.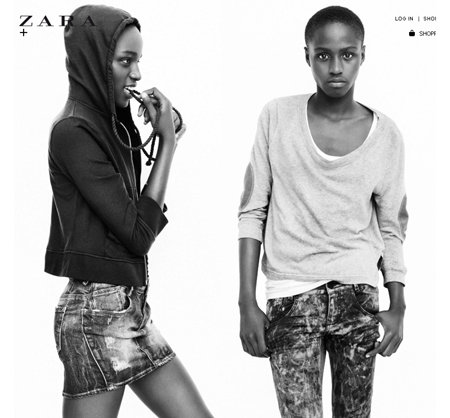 Zara now also offers the option to shop online
"It's simple to browse and compare items or even different brands," said Holtkotter, a former insurance staffer. "I can take time making choices, the goods will be delivered to my house and I can still return them."
Online shopping is in, and when two of the leading fast-fashion brands launched websites late last year, European fashion retail hit its stride -- and raised the bar for U.S. peers such as
Abercrombie & Fitch
Co and Victoria's Secret parent
Limited Brands
Inc.
Spain's
Inditex
, which overtook U.S.-based
Gap
Inc as the world's biggest clothing retailer by sales last year, launched online shopping for its flagship
Zara
brand in September. Sweden's Hennes & Mauritz also went online.
Online spending in Europe is expected to grow 18 percent to more than 200 billion euros ($271.8 billion) this year, well ahead of the near-11 percent growth, to $192 billion, predicted for the United States, according to Kelkoo, a website that compares online prices.
The 27-nation European Union has a population of just over 500 million, against a U.S. population of close to 320 million.
"2011 will see online sales achieving a significant share of retail trade in most European countries, with 7 cents in every euro being spent online on average," Kelkoo CEO Richard Stables said in a release last month.
And that could be bad news for some U.S. retailers.
U.S. specialty chains catering to 15-to-35-year-olds will be most affected, said Marshal Cohen, chief analyst at
NPD Group
.
"You have to understand that the pie isn't getting bigger and bigger. The more slices you put into the pie, the more the competition," he said.
Abercrombie & Fitch and Victoria's Secret, both of which have a strong cachet overseas, will be among those to feel the competitive threat, especially if new entrants price more competently and deliver faster.
Natalia Grabov, an analyst at London-based retail research firm Verdict, reckons companies looking beyond bricks-and-mortar stores can expand their customer base quickly and effectively.
"This is a cost effective way to explore the market and understand demand before promoting heavily," she said.
And the wider variety offered by online shopping is a winner for 27-year-old Eva Maria Darre from Copenhagen.
"The thing I like about it is that I get a chance to buy clothes by brands not sold in my city," the social counselor and fashion blogger told Reuters, adding she was attracted by popular brands and exclusive web-only deals.
"I'm sure
H&M
can and will give competition to fashion houses like Abercrombie and Gap. H&M's prices are much lower and they have a wide variation in different collections when it comes to style, which gives them a bigger audience," Darre said.
NETTING GROWTH
The increasing popularity of fashion online is underlined by some smaller retailers in Britain, which accounted for about 30 percent of total European online sales last year.
Jacques Vert posted a 7 percent rise in first-half profit on growth in its online business, while
Laura Ashley
's e-commerce channel grew 29 percent in the 19 weeks to December 11.
Laura Ashley's total UK retail revenue for that period grew just 1.3 percent, with like-for-like sales up 2.7 percent.
"The total sales performance reflects continuing growth of the e-commerce channel offset to a modest extent by a rationalization of underperforming retail space," Jacques Vert said in a statement last month.
Online spending on clothing and footwear in Britain is set to more than double to 5.8 billion pounds over the next 5 years, forecasts retail research firm Verdict.
That uptrend, plus Northern Europe's big freeze that kept shoppers away from stores during the peak Christmas shopping season, has prompted more retailers, including High Street perennial
Marks & Spencer
Plc, to ramp up their existing Web presence.
"The online market is growing faster than the underlying retail market and sectors such as clothing are growing even faster," said Altium Securities analyst Philip Dorgan.
British women's clothing retailer Alexon doubled its online trading for the three weeks to December 19, and is further developing its online and mail-order partnerships.
John Lewis
, whose store-sales growth stalled in the first week of December due to the heavy snowfalls that blanketed much of Britain, said its johnlewis.com sales soared more than 62 percent over the four days to December 1.
Britain, Germany and France accounted for over 70 percent of total online sales in Europe last year.
"All the big players, including Marks & Spencer or Next or John Lewis or
Debenhams
, are making big strides. They're all growing very quickly by 40-60 percent," said Nick Bubb of Arden Partners.
"Order and collect, click and collect ... are all incredibly popular."
(Reporting by Nivedita Bhattacharjee and Tresa Sherin Morera in Bangalore; Editing by Ian Geoghegan)
© Thomson Reuters 2023 All rights reserved.