Model Heidi Klum hangs up Victoria's Secret wings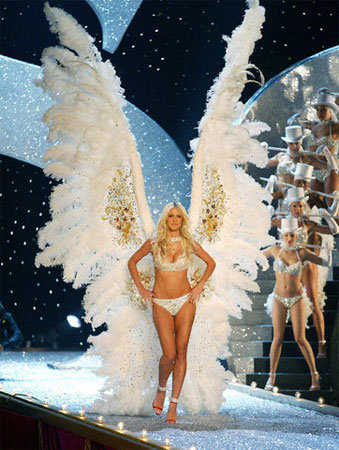 Heidi Klum for Victoria's Secret. Photo : Corbis
(Reuters) - Supermodel Heidi Klum is hanging up her wings and quitting her role as an "angel" for "Victoria's Secret", the U.S. lingerie company confirmed.
Klum, 37, who has four children and is married to British singer Seal, told the New York Post that she would not be taking part in the annual November fashion show by the upmarket lingerie chain, for whom she's modeled for 13 years.
The German beauty dazzled audiences last year when she strode the Victoria's Secret runway in underwear just five weeks after giving birth.
"All good things have to come to an end. I will always love Victoria's Secret. It has been an absolutely amazing time", Klum told the New York Post in Paris during fashion week.
Victoria's Secret parent company
Limited Brands
confirmed that Klum's role with the lingerie line was ending.
"Heidi will always be an Angel," Ed Razek, president and chief marketing officer of Limited Brands, said in a statement. Klum made her debut as a Victoria's Secret model in 1997 and became an Angel, or brand spokeswoman, in 1999.
No reason was given for the break, but Klum is expected to turn her attention to other projects including her role as host of TV reality fashion design show "Project Runway".
She and Seal also are about to shoot a pilot show for U.S. television that gives different couples their dream weddings.
Seal and Klum this week released a steamy music video for the singer's new single "Secrets", which features the naked couple in bed together.
(Reporting by Jill Serjeant; Editing by Bob Tourtellotte)
© Thomson Reuters 2023 All rights reserved.