Luxury retailers brace for long sales downturn
By Sarah Coffey
NEW YORK (Reuters) - U.S. luxury shoppers scaled back spending in August, as concern about a declining stock market depressed consumer confidence among even the wealthiest of customers and stores braced for a prolonged downturn.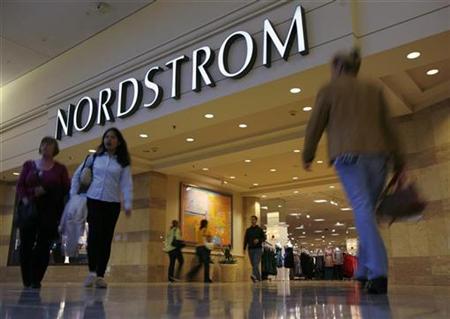 Upscale retailers Saks Inc and Nordstrom Inc both reported steeper-than-expected sales declines at stores open at least a year on Thursday, sending their shares down as much as 5 percent and 4 percent, respectively.
"As the market drops, people are less likely to spend, and we're now seeing spillover into the luxury segment," said A.T. Kearney retail analyst Dean Hillier.
Saks Chief Executive Steve Sadove told analysts he expects a "tough environment" through at least the first half of next year, but forecast sales picking up when market conditions improve.
Saks' high-end customers tend to scale back purchases when the stock market falls, but they continue to spend, unlike more middle-class or "aspirational" customers, who tend to trade down to less costly merchandise.
"Our high-end customer has held up better than the aspirational program," Sadove said at a Goldman Sachs retail conference.
Huge banking losses from a U.S. housing slump and credit crisis have prompted the biggest Wall Street firms to cut thousands of jobs, while the pool of money for annual bonuses is expected to be slashed.
The bigger problem is that there is no clear view for when the housing market will stop declining, how much more losses the banks still need to disclose or whether the U.S. is facing a deep recession.
CUSTOMER MALAISE
Nordstrom's Chief Financial Officer Michael Koppel said his customers aren't forgoing a trip to Nordstrom in order to shop with Wal-Mart Stores Inc or other discounters. But they are scaling back purchases as confidence wanes.
"We're seeing just a general reduction in spending, a customer at our level who is looking for a little more value," Koppel said. "We don't think it's as much of a trade-down as a general softening of demand."
Analysts have said Nordstrom needs to add more sales events to the two it usually schedules each year to attract skittish customers, as many retailers mark down prices aggressively.
"Unless management is willing to add promotional events, it will be difficult for the company to gain traction in the current promotional environment," BMO retail analyst Wayne Hood wrote in a research note.
But Koppel said the company has no plans to do so, and will instead concentrate on more personalized marketing efforts, such as sales staffers keeping in touch with loyal customers to let them know about new merchandise.
Luxury goods maker Coach Inc expects "customer malaise" in North America to continue, at least through the next six months, with no improvement expected until late 2009.
"We are in a protracted situation," Coach CEO Lew Frankfort said. But he noted that easing prices means the handbag and shoe maker may pay less for leather today than a year ago.
Saks' comparable store sales fell 5.9 percent in August, worse than the 4.7 percent expected by analysts, according to Thomson Reuters Estimates. Total sales fell 6.1 percent to $200.5 million.
Nordstrom's same-store sales fell 7.9 percent in August, below analysts' expectations of 7.1 percent, and total sales for the month fell 4.2 percent to $558 million.
Shares of Nordstrom were down $1.27, or 3.8 percent, to $32.06 in late afternoon trading on the New York Stock Exchange; it had traded as low as $31.70 earlier. Saks was down 8 cents, or 0.7 percent, to $11.25 after trading as low as $10.74.
(Editing by Gerald E. McCormick)
© Thomson Reuters 2022 All rights reserved.