Luxury goods maker Prada vs peers
June 2 - Fashion power house Prada is the first Italian company to seek an initial public offering in Hong Kong.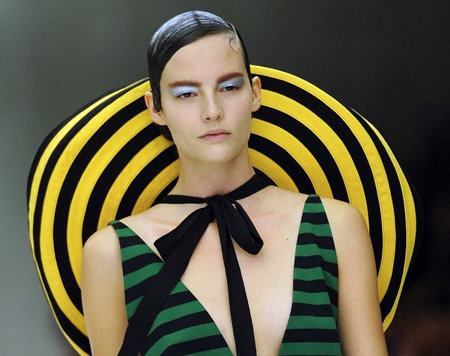 A model presents a creation by Prada during the Milan Fashion Week Spring/Summer 2011 (Photo: Corbis)
Analysts say an increasing exposure to Asia, a focus on leather goods and a strong retail network can be key drivers for growth at Prada and other luxury goods makers.
Here are some facts about Prada and its peers.
GROWTH POTENTIAL
Milan-based Prada, known for its leather handbags and
Miu Miu
dresses, is among the world's best known luxury goods makers, along with names such as LVMH's
Louis Vuitton
, PPR's luxury unit
Gucci
,
Hermes
, Burberry and Tod's.
With net sales of over 2 billion euros ($2.9 billion) in 2010, it grew twice as much as the luxury sector average, according to research from one of the listing bookrunners seen by Reuters and which was not distributed to the media.
ASIA FOOTHOLD
Greater China and the rest of Asia-Pacific together account for 40 percent of Prada group's sales, more than that of peers.
However, Prada's sales of 646 million euros in Asia (excluding Japan) were less than that reported in the region by Louis Vuitton and Gucci.
Europe remains Prada's biggest market, accounting for 42 percent of sales.
RETAIL BOOST

Prada generates 71 percent of its sales from its own retail network, compared with 54 percent in 2009. That is close to Gucci and Hermes (73 percent and 77 percent, respectively) and ahead of brands such as Tod's (51 percent), Burberry (63 percent),
Richemont
(50 percent) and
Swatch
(17 percent).
Analysts say Prada and Miu Miu are under-represented in terms of number of stores in Asia relative to peers, especially in second and third-tier cities.
LEATHER GOODS
Leather goods, which offer higher margins, are expected to be the fastest-growing category for Prada, whose roots are in the leather business. The division accounts for 50 percent of revenue, close to Gucci (55 percent) and Hermes (50 percent).
An equity research note by
Goldman Sachs
seen by Reuters expects leather goods to account for 53 percent of sales by 2014.
Other luxury goods makers such as Ferragamo, Burberry and Tod's are boosting production of leather bags and accessories.
(Compiled by Antonella Ciancio; Editing by Will Waterman)
© Thomson Reuters 2023 All rights reserved.