Japan's Fast Retailing Q1 profit slips, keeps outlook
Jan 13 - Japan's Fast Retailing said first-quarter operating profit fell 18.4 percent but kept its profit forecast intact for the year to August, confident it could withstand rising costs while it grapples with sluggish sales in its home market.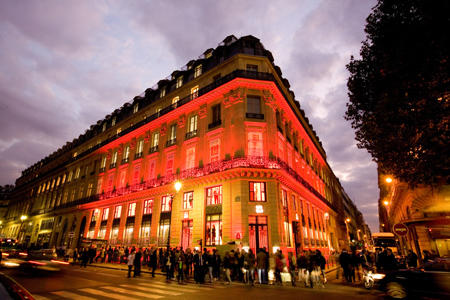 Uniqlo in Paris
The operator of
Uniqlo
stores saw a jump in profit growth at the budget fashion chain's overseas outlets, still a small contributor to overall earnings but key to its expansion strategy as it aims to become the world's largest casual clothing retailer.
The Uniqlo chain, often compared with U.S.-based
Gap
Inc, stumbled in Japan last year following a spurt that started in late 2008, when it lured downturn-weary consumers with a line-up of budget fashions and heat-trapping underwear.
An improved economy has since prodded some of those shoppers back to pricier shops and department stores, and helped retail sales overall in Japan rise 1.3 percent in November after gaining more than 3 percent in each of the first three quarters of 2010.
Fast Retailing, in contrast, said on Thursday that its September-November operating profit fell to 49.85 billion yen ($600.3 million), reflecting a 12.3 percent drop in same-store sales at Uniqlo outlets in Japan.
But the company is doing better than some investors had expected, said Fujio Ando, an adviser at Chibagin Asset Management.
"We've heard a series of negative news about Fast Retailing but as it turns out their operating profit in the quarter was well over 40 percent of their full-year target," he said.
Analysts said higher costs for raw materials, particularly cotton, and for labour could pressure margins for clothing firms like Fast Retailing, whose rivals include Spain's
Inditex
, which operates
Zara
outlets, and Swedish fashion giant Hennes & Mauritz.
But the company's CFO, Hidetsugu Onishi, told a briefing in Tokyo that higher costs would not affect the firm during its current financial year.
Fast Retailing, headed by Japan's richest person, Tadashi Yanai, is aiming for group revenue of 5 trillion yen by 2020, almost six times expected sales this business year. More than two-thirds of that would come from operations outside Japan.
Over the long haul, retailers face a tough environment in Japan with persistent deflation and little demand growth expected in the future, as the nation's population ages and shrinks.
Operating profit from Uniqlo outlets outside Japan rose 52.5 percent in the latest quarter to 4.8 billion yen, although that was less than 10 percent of the retailer's total quarterly haul.
Fast Retailing, which runs more than 800 Uniqlo stores in Japan, opened its first Uniqlo outlets in Taiwan and Malaysia in the latter half of 2010 and aims to have 180 overseas locations by the end of its current fiscal year to end-August, up almost one-third from a year ago.
Fast Retailing kept its 2010/11 operating profit forecast at 113.5 billion yen, 14.3 percent lower than the previous year and below an average estimate of 117.4 billion yen in a poll of 21 analysts by Thomson Reuters I/B/E/S.
The company pared its sales outlook for this business year by 1.2 percent to 846 billion yen and said it now sees same-store sales at Uniqlo outlets in Japan falling 5.7 percent, versus its previous estimate of a 4.7 percent drop.
The company's shares tumbled more than 25 percent in 2010, underperforming a 3 percent decline in the benchmark Nikkei average. On Thursday, its stock slipped 1.2 percent to 12,120 yen compared with a 0.7 percent rise in the benchmark.
By James Topham
(Additional reporting by Mariko Katsumura and Tim Kelly in Tokyo; Arada Kultawanich in Bangkok; Editing by Chris Gallagher and Edmund Klamann)
© Thomson Reuters 2023 All rights reserved.