Iraq's Kurds want Turk troops out, Turk products in
By Sherko Raouf
ZAKHU, Iraq (Reuters) - From Pop Kek cakes to Mio soap, Turkish products dominate shop shelves in Iraq's Kurdish north. So even as residents here seethe in anger at Turkey's big military incursion into their homeland, they cannot afford to cut the economic lifeline with their larger neighbor.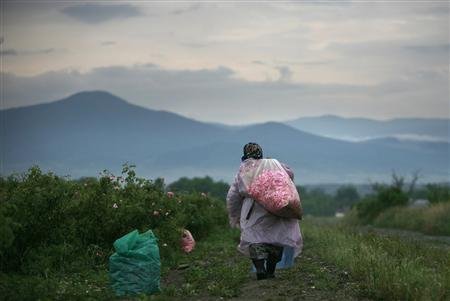 Thousands of Turkish troops crossed a remote part of the border last Thursday to hunt Kurdish PKK rebels who have used mountainous northern Iraq as a base to fight for self-rule in the mainly Kurdish southeast of Turkey since the 1990s.
"I want an alternative to Turkish goods, but we're not a manufacturing region, so we have to import. The closest place is Turkey," said shop owner Cezar Abdeh in the border town of Zakhu, surrounded by Turk sweets, cosmetics and other imported goods.
A little further to the north at a border post, convoys of trucks wait in line to cross over into Iraq's largely autonomous Kurdistan region, laden with goods from Turkey. Trucks with fuel oil cross in the other direction, bringing precious revenues.
Turkey's exports to Iraq rose 9 percent last year to $2.8 billion and its influence can be felt across northern Iraq in the form of supermarkets, consumer goods and construction firms from all over Turkey.
Iraqi Kurdistan is landlocked and depends on Turkey for trade given the violence that has destabilized the rest of Iraq. It also shares a long border with Iran to the east.
"We Kurds have nothing against the Turkish population and we want to live peacefully with them, so I was shocked at their decision to destabilize the region," said Dloban Rasheed, 18, dressed in trendy imported Turkish clothes.
Kurdish shopkeepers say most shoppers insist on Turkish clothes, and not the Syrian and Chinese alternatives on offer.
"I buy Turkish clothes because they're fashionable," said Rasheed. For him, looking good means a boycott of Turkish goods is out of the question.
TURKS OUT, GOODS IN
Turkey views Kurdish northern Iraq with mixed emotions.
On the one hand, it fears the emergence of a wealthy Kurdish independent state that could fuel separatist insurgency in its own southeast. On the other hand, a blossoming of trade with the region could help revive the southeastern economy and alleviate the poverty that has fed rebellion there for over 20 years.
Ankara says it intervened because Iraq had failed for years to crack down on PKK rebels. Turkish officials say the offensive will be limited, but have given no timeframe for withdrawal.
In Zakhu, 15 km (9.3 miles) from the border, Iraqi Kurds drink coffee in cafes and watch the latest news on the incursion. Although there have been no reports of civilian casualties, emotions are running high.
Residents in villages near the border say they are being targeted in Turkish air strikes and artillery barrages. Turkey says it is only bombing the PKK.
Some residents in Zakhu suggested an economic boycott or that Kurdistan seal its borders to protest the Turkish offensive, but most said that would do more harm to Kurdistan.
"In Iraq and the Kurdistan region there are no good clothes or shoes factories ... the Kurdish region will be the most hurt," shop owner Diyar Abdul-Latif said.
For some, politics had no place in the supermarket.
"When I buy something I don't really think where it comes from. Syria, China or Turkey, I always look for the cheapest," said shopper Hassan Kareem, 67.
(Writing by Mohammed Abbas, editing by Ralph Boulton)
© Thomson Reuters 2021 All rights reserved.