In "Africa Wax" war, Dutch take on China
PARIS, April 12, 2009 (AFP) - A new trade war is unrolling across Africa: a battle between Chinese textile-makers and a colonial-era company from The Netherlands, original maker of the eye-catching "Dutch Wax" fabrics often known as "Africa Wax."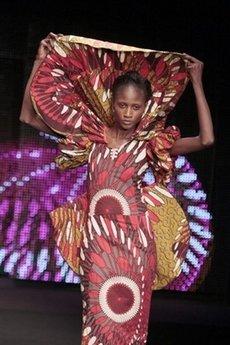 Photo: (AFP/File/Francois Guillot)
Little known at home or anywhere else in Europe, the house of Vlisco is one of Africa's most-known brands, suppliers since 1846 of the bright cloths stamped with extravagant designs that are a hallmark of the continent.
But China's deepening foray into Africa has upset the makers of "Guaranteed Dutch Wax," who say workaholic Chinese are copying their designs as soon as they hit ports to dump cheaper low-quality lookalikes on African marketplaces.
"For the price of a yard of Vlisco, you can buy eight to 10 copies," Ed Hessing, the company's sales manager, told AFP. "The competition from China is a threat."
"We must defend ourselves against dirt-cheap Chinese copies. We aim to become the top high-end fashion brand of Africa."
Striving to become a luxury brand in impoverished Africa in times of economic turbulence might sound outlandish but is exactly what the old established Dutch firm is up to.
For the first time in 160 years, the company this week threw its collection of fabrics onto a Paris catwalk for a crowd of several hundred people in the hopes of grabbing the spotlight in the world's fashion capital.
"We want to create a buzz around our fabrics," said Hessing, who says the original Dutch cloth is far hardier than the imitation roller-printed version. The real thing lasts 15 years and is colour-fast, he said.
Inspired by Indonesia's batik method of dying cloth, a Dutch merchant family called the Van Vissingens industrialised the method in Europe in the 19th century. By the late 1800s they were supplying the bulk of the Indonesian market as well as selling in West African ports where Dutch freighters set anchor.
Popular from the start in fabric-loving Africa, the Dutch-made cloth continues to come bearing a stamp saying "Vlisco Guaranteed Dutch Wax," an imprint that often features proudly in finished garments -- just as Westerners like to flaunt logos such as D&G or Nike.
"Through the ages African women have really appreciated Dutch designs, even over the African designs on the market," said Annette Schmidt, curator of an exhibition on African wax at the Dutch National Ethnology Museum.
Vlisco, which describes itself as the biggest textile company in The Netherlands, has a dozen-odd designers among its staff of 500 -- but not a single artist is African.
"We don't try to make our designs African," the firm's creative director Henk Bremer said. "But there seems to be a click with Dutch design, I think it is because West Africans like innovation and novelty."
At the Paris show, the company paraded its own designs cut in its latest collection of fabrics as well as outfits by three young African stylists, winners each of a 5,000-euro Vlisco fashion prize.
"Africa is evolving, Africa is modernising," Bremer said. "They use our designs as their inspiration."
Patterns might incorporate mobile phones, computers, modern kitchens and rollerskates.
"I saw the rollerskate design on women in villages in Mali who I'm sure had never seen a real one, but I guess they saw the humour," Schmidt said.
"All popular designs are named and have a specific meaning" said Bremer, adding that most often the fabrics were given names by local saleswomen.
Thus a design featuring human eyes is "the eyes of my rival" and one of a recurring bedroom suite known as "come to my bedroom on your sandals."
With these decades of knowhow behind it, and a 100-million-euro turnover last year, Vlisco is fighting back to entrench its foothold in Africa.
To maintain its edge, staff are turning out new collections of fabrics every three months now, giving competitors less time to copy.
And the company is moving away from street-market booths selling bolts of fabric to instead offer ready-to-wear lines in "flagship" boutiques opened last year in Benin and Togo and this month in Ivory Coast.
New stores are planned for Ghana and the Democratic Republic of Congo in late 2009, with one in Paris in 2010, Hessing said.
"We want to reach the African diaspora in Europe now," he said.by Claire Rosemberg
Copyright © 2022 AFP. All rights reserved. All information displayed in this section (dispatches, photographs, logos) are protected by intellectual property rights owned by Agence France-Presse. As a consequence you may not copy, reproduce, modify, transmit, publish, display or in any way commercially exploit any of the contents of this section without the prior written consent of Agence France-Presses.