Gildan sees capex rise if market improves
By Scott Anderson
TORONTO, June 1 (Reuters) - Canadian T-shirt maker Gildan Activewear (GIL.TO) will increase capital spending in 2010 if markets improve enough to boost production at its Central American plants, its chief financial officer said on Monday 1 June.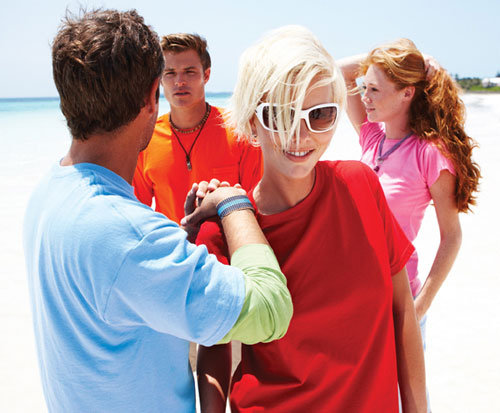 Gildan Activewear
The company, which sells blank T-shirts as well as socks and underwear, would raise its 2010 capital expenditures to "north of $100 million" from roughly $65 million this year, CFO Laurence Sellyn told Reuters.
He said the money would be used to boost production at the company's plants in Honduras and Dominican Republic.
But he said the decision would be based on how quickly the market recovers.
"Depending on the need for capacity and the outlook for economic recovery and our success in retail, it will determine our need for further capacity expansion," Sellyn told Reuters in an interview.
"We haven't developed our plans for next year...Assuming that we do need further expansion, then we would go back to our more historical spending patterns of north of $100 million of capital expenditures."
The company's shares were up 4.8 percent at C$18.96 on the Toronto Stock Exchange on the afternoon of Monday 1 June, but are down about 38 percent in the past year.
Gildan deferred capital projects over the past year as it assessed the full impact of the economic downturn amid falling demand for its products and the threat of bankruptcy at one of its biggest U.S. customers.
The customer, Broder Bros, represented about 23 percent of Gildan's 2008 sales in the U.S. screenprint business. It faced a deadline in May for its key lenders to accept a refinancing of its senior notes. Holders of the majority of the debt did end up accepting the terms of the debt-for-equity swap.
Sellyn said a capital spending increase would be used to boost capacity "incrementally" at existing facilities as well as to reinstate development of a new textile factory for activewear and underwear at a plant in Honduras.
Although Sellyn said the company was "comfortable" with its inventory levels at the present, he said it might be forced to take some manufacturing downtime in the second half of the year to control levels.
"To the extent that we need to manage inventories, we will take production downtime in the second half of the year," he said.
But Sellyn said he sees demand picking up quickly as a number of its customers, including Broder Bros, restock their inventories as the retail outlook improves.
Gildan, whose market share for all its products combined was about 57 percent at the end of March, aims to boost that share to above 60 percent in the months ahead.
Sellyn said it would do this by pushing into new territories including the screenprint market in Europe, Mexico and the Asia-Pacific region.
"We had a significant increase in our market share in the quarter...and we believe that we can still achieve some further incremental expansion on top of that," Sellyn said.
"But having said that, even though there is a little bit more mileage in market share, for us to continue to be a high-growth company from the kind of base that we have today, we obviously have to be successful in entering some large, new markets. The growth in market share won't be enough to drive significant growth from the base that we have today."
($1=$1.09 Canadian)
(Reporting by Scott Anderson; editing by Peter Galloway)
(([email protected]; +1 416 941 8106; Reuters Messaging: [email protected])) Keywords: GILDAN/
(C) Reuters 2009. All rights reserved. Republication or redistribution ofReuters content, including by caching, framing or similar means, is expresslyprohibited without the prior written consent of Reuters. Reuters and the Reuterssphere logo are registered trademarks and trademarks of the Reuters group ofcompanies around the world.nN01483591
© Thomson Reuters 2022 All rights reserved.