Flashiness unstylish for wealthy this Valentine's Day
By Walker Simon
NEW YORK (Reuters) - Flashiness is out and subdued celebration is in among wealthy Americans on Valentine's Day.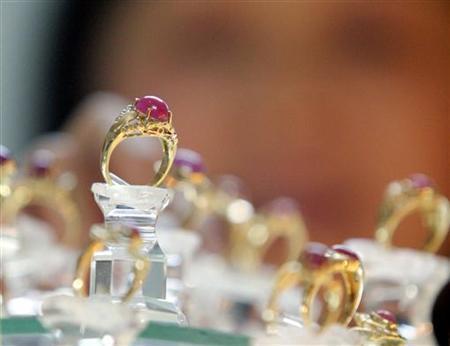 As the economic crisis spreads and conspicuous consumption loses its lustre, hedge fund millionaires and oil barons are shunning eye-catching items like yellow, red and blue diamonds in favour of lower-key gifts, luxury industry watchers say.
In Hollywood, it is easier to book reservations at marquee restaurants than last year for the romantic day of February 14, a restaurant publicist said, noting that entertainment big shots now tend to favour eateries that have cut their entree prices.
Among U.S. households earning at least $150,000 (102,710 pound) per year, Valentine's Day spending will fall by nearly one quarter, according to data from a survey for the National Retail Federation.
Anecdotally, those with investment portfolios worth more than $10 million are shunning flamboyant gifts that could be seen as out of step with the sombre economic mood.
"You have a level of social opprobrium," said Richard Baker, chief of luxury marketing researcher Premium Knowledge, adding that the super-wealthy were anxious about "being labelled as ostentatious" and were "pulling back substantially."
In recent years, he said, Valentine's Day spending among the $10-million-plus crowd rose by 8-10 percent a year.
Common were gifts costing tens of thousands of dollars, Baker said, such as yellow diamonds and luxury time pieces from companies like Cartier, whose corporate parent Richemont posted a 12 percent drop in sales in the fourth quarter of 2008.
In the hedge fund epicenter of Greenwich, Connecticut, buyers are looking at traditional white diamonds that are easier to match with clothes, said John Green, chief of jewellery store chain Lux Bond & Green.
"It's back to basics," said Green, who also is president of the trade group Jewellers of America. "There is a simple style, a more conservative style that is less conspicuous."
'TACKY AND IN POOR TASTE'
In the historical downtown of Charleston, South Carolina, the mood looks less exuberant, said a prominent local florist.
"It's a combination of the economy and the mind-set of the American public. It seems that, over the last few months, spending that much money has become tacky and in poor taste," said Manny Gonzales, owner of Tiger Lily Florist.
"Who is going to still pay $110 for roses?" he asked about Valentine's Day. "We are offering lower-priced, high-quality arrangements including tulips, hyacinths, et cetera, which I think will be more popular this year than ever."
In Hollywood, flamboyant spending in expensive restaurants began slowing with the screenwriters' strike in late 2007, a trend that accelerated with the fall in profits at entertainment companies, said a public relations specialist for eateries such as Patina Restaurant and Citrus at Social.
Valentine's Day reservations at high-end restaurants are down about 25 percent from last year, she said.
Home-style comfort food such as burgers, grilled cheese sandwiches and macaroni and cheese are more in vogue than refined Italian food and haute French cuisine. A big trend is fancy restaurants going bistro, cutting entree prices by one-quarter to one-half.
In New York, several high-end restaurants such as Daniel and Le Bernadin say Valentine's Day reservations were snapped up well in advance. Daniel, a French restaurant, said bookings were almost all gone in mid-January for a $245 prix-fixe dinner with $85 wine pairing -- all before taxes and tips.
Chuck Hunt, vice president of the New York State Restaurant Association, said habits are not likely to change for patrons of very high-end spots with checks in the hundreds of dollars per person.
"Even if they lost half their fortune," he said, "they probably are not going to change their dining regimen."
(Editing by John O'Callaghan)
© Thomson Reuters 2022 All rights reserved.