Dress down Friday gets a makeover
WASHINGTON | Mon Sep 19, 2011 - One of the most interesting things to emerge during Fashion Week February 2011 in New York was Bill Cunningham, world-renowned fashionista and photographer of The New York Times, proclaiming: "Dress Down Friday is Dead."
Yes, business attire is back!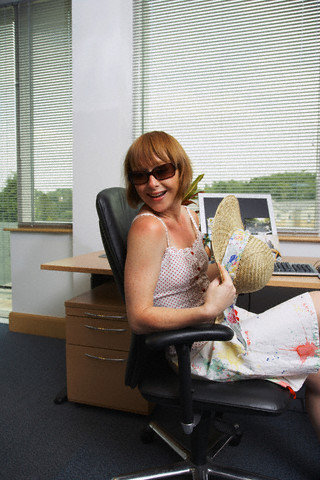 She obviously didn't get the memo : "Dress down Friday is dead"
Button-down oxford shirts, pencil skirts, and sheath dresses for women and tailored jackets for men (and women) are all the rage this fall.
Then there's Banana Republic's MadMen Collection made popular by the Emmy-winning TV show about (New York's) Madison Ave in the 1960s. With Banana Republic's just-launched collection, you don't need a six-figure salary to sport polished suits or shirt-waist dresses and heels.
Of course, as every savvy professional knows, looking smart at work never went out of style.
Whether you're in the boardroom or standing around the water cooler, how you dress influences how people perceive you. Even on casual Friday, flip flops send a message just as loud as a tailored shirt and well-shined shoes, but the content of the message couldn't be more different.
As someone who works with professionals in all industries, in the U.S. and abroad, it's clear that the new/old look will benefit professionals on every level.
However ,there are a few "must dos and don'ts," along with one caveat: A fashion-forward look worn in downtown New York won't play well in a more conservative environment in the Mid-west, so take your cue from your VP or direct report.
Gentlemen To-do List:
* Go for a clean, pressed and polished look.
* Wear an undershirt to hide perspiration and chest hairs.
* Wear a straight collar of medium length.
* Suit sleeves should allow for a inch of the shirt cuff to be visible.
* The tip of the tie should sit just above the belt buckle.
* Stick to striped, solid, and small-patterned ties.
* Don't wear socks that have holes in them or ones that have worn thin.
* Shoes must be polished before each use.
* Shoes and belt should match.
* Stock your closet with a basic navy wool blazer, at least one (versatile) blue dress shirt, and a black leather oxford with 3-6 eyelets.
* Tailor suits in arm and trouser length when needed.
Ladies To-do List:
* Avoid ill-fitting (too small/too big) clothing.
* Stick to classics like a two-piece suit or dress in a neutral color (black, gray, navy, beige) or long-lined trouser suit that doesn't bunch or stretch.
* Add character to suits with a well-selected, well-fitting dress shirt in classic white or a color that complements your complexion. Avoid shirts that reveal cleavage.
* The sleeve length should hit the base of the wrist.
* Select skirt lengths with care. There are three standard lengths: knee length for serious business; an inch above the knee for a professional yet relaxed look, and ankle length to be avoided at all cost.
* Shoes should be powerful yet feminine. A classic mid-height black pump can be dressed up or dressed down. Enjoy a peep-toe in a less conservative work environment.
* Hosiery is optional in warm weather or a casual work environment.
* Acceptable hosiery colors include opaque black, sheer black and nude.
* Hosiery can be lighter than your shoe, but not darker.
* Keep jewelry simple and tasteful, not trendy. A chunky or multi-strand pearl necklace is a must.
* Handbags should be classic, structured in shape and of good quality material.
(Edited by Paul Casciato)
© Thomson Reuters 2021 All rights reserved.