Designer gowns, stylish undies? Chinese crave labels
By Jacqueline Wong
SHANGHAI, April 19 (Reuters Life!) - Fashion is not about browsing through a store or watching a fashion show anymore, especially if you're an international label out to court one of the world's fastest growing luxury markets: China.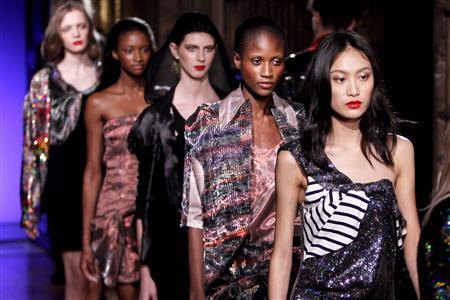 As Western markets suffer from a clampdown on credit and spending, China's consumers are making a beeline for luxury.
From cars to jewellery and clothes to cosmetics, Chinese consumers now rank as the world's second-largest spenders on luxury goods after the United States.
Chinese consumers are buying an estimated $7.5 billion per year of luxury products and the market is growing 15 percent annually, said Shaun Rein, managing director of China Market Research Group, based in Shanghai.
And no Chinese city has indulged in as much luxury as Shanghai, its financial capital, which promises glitz and glamour as it gears up for World Expo 2010 next month.
In Shanghai, Calvin Klein turned an old textile factory into the venue for an extravagant party reminiscent of the decadence of this eastern port city in the 1930s.
The U.S. fashion and fragrance brand picked China's financial centre, once described as the Paris of the East, to launch its Fall collection on Friday 16 April.
"China is such an important market to us," Tom Murry, president and chief executive of Calvin Klein Inc, told Reuters.
"It will become the No.1 country in Asia for us in 2010. It will surpass Korea and Japan, our top two countries for the last decade or more."
The fashion label, a wholly owned subsidiary of Phillips-Van Heusen Corp (PVH.N), is among many high-end retailers taking aim at the booming Chinese market as shoppers elsewhere turn weary of spending in the wake of the global financial crisis.
Bund 1919, an old landmark building situated along the scenic Huangpu River, was transformed into a stage for 70 models. The event also marked the launch of Calvin Klein X Underwear.
Murry estimates that Calvin Klein's China sales will grow in the foreseeable future between 20 to 30 percent annually. China will account for about 20 percent of its $1 billion Asian sales.
Flagship brand stores and glossy malls crowd Huaihai Road and Nanjing West Road, busy shopping belts. The historic Bund, the city's famous waterfront promenade was recently revitalised and offers its own unique type of shopping experience.
Top brands such as Giorgio Armani, Dolce & Gabbana and Cartier have stores fronting the river and shopping there can feel as grand as New York's Fifth Avenue.
Over the past decade, Dior, Louis Vuitton, Gucci and Ermenegildo Zegna have all extended their reach in China, but analysts say those that are doing well are in smaller cities such as Shenyang and Harbin.
STYLISH REVENUES
But whether companies are building up a brand for the promise of a windfall or already raking in profits, analysts say they cannot afford not to be here.
China is the world's most populous country with 1.3 billion people. While per capita disposable income of urban residents was a relatively modest 17,175 yuan ($2,516) in 2009, analysts estimate there are 750,000 millionaires in the country, measured in U.S. dollar terms.
"Luxury is really big in China, only not everyone is going to be a winner. Certain brands are getting all the sales," Rein said, noting a love of Louis Vuitton and Gucci.
In spite of rampant piracy, high taxation on luxury goods and rising store prices in prime locations squeezing bottom lines, all segments of luxury goods are expected to grow between 10 and 50 percent annually in the world's third-largest economy.
And, while some malls may not see high foot traffic, looks can be deceptive.
"A lot of people are not shopping at the stores. They have people bringing the merchandise from the stores," said Renee Tai, head of China consumer products at CIMB-GK Research in Hong Kong.
The average per ticket spend in Shanghai is significantly higher than in Hong Kong, she said.
Luxury goods and sales tax may make merchandise bought in China 20 to 30 percent pricier than the same thing in Hong Kong, but high-end Chinese customers are not really concerned.
"When merchandise is brought to them from the store, it is not uncommon for one customer to spend HK$1 million ($129,000)," Tai said, referring to Chinese customers in China. ($1=6.825 Yuan) (Editing by Miral Fahmy)
© Thomson Reuters 2023 All rights reserved.