Designer GF Ferre to dress Lazio soccer team
MILAN (Reuters Life!) - Italian fashion house Gianfranco Ferre's young label will dress the Rome-based S.S. Lazio soccer team for official off-field events during the 2009/2010 season, the designer said in a statement.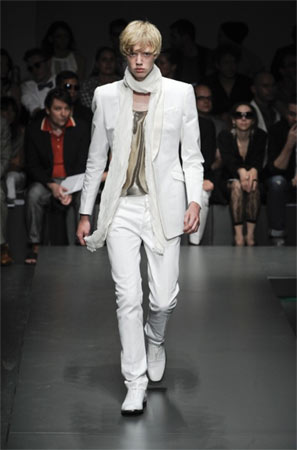 Gianfranco Ferre menswear spring-summer 2010 in Milan - Photo: PixelFormula
The formal GF Ferre outfit will be made up of a midnight blue suit in light wool, with matching tie, white cotton satin shirt and a single-breasted coat. The emblem is a GF Ferre logo jacket pin.
For more leisurely occasions, the team will wear light blue cotton satin shirts with dark blue stretch denim trousers.
The fashion house's founder Gianfranco Ferre, who was known for his signature "architectural" style in suits and jackets and his trademark white shirts, died in 2007.
The main Ferre brand is one of Italy's best-known fashion lines and is now styled by Tommaso Aquilano and Roberto Rimondi.
Its owner IT Holding was put into special administration under the weight of financial pressure this year, and in the hands of government-appointed commissioners.
(Editing by Paul Casciato)
© Thomson Reuters 2023 All rights reserved.