Dealtalk: Luxury spread too thin can lose cachet
Several upscale U.S. brands are running the risk of slumming it as they partner with retailers that seem beneath their station, a move that threatens to cheapen the appeal and scarcity value that marks the allure of luxury.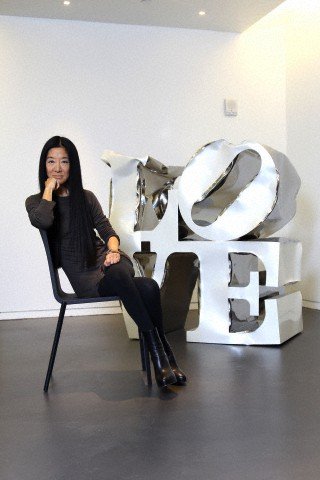 Vera Wang, Photo: Corbis Images
In recent months, designers such as Vera Wang and Martha Stewart have forged unlikely partnerships with Zale Corp (ZLC.N) and J.C. Penney Co Inc (JCP.N), respectively. Vera Wang on Wednesday also expanded its clothing partnership with discount retailer Kohl's Corp (KSS.N).
"It's definitely a step down for both designers. Not every deal is a good deal. You have to be careful not to oversaturate the brand," said one retail and consumer investment banker who declined to be named. The banker was not authorized to speak to the media.
"As an aspirational brand, you want to create an allure of exclusivity. You don't want to be everywhere at every mall. And to be at a mall-level store you need to tone down the style and the price, and you start to lose some of what made you special," said the banker.
J.C. Penney's deal to buy a 16.6 percent stake in Martha Stewart Living Omnimedia Inc (MSO.N) and open Martha Stewart shops within its stores in 2013 was well-received by investors. Shares of both companies rose on the news.
Macy's Inc (M.N), which currently features an exclusive line of Martha Stewart-brand housewares, said it would review its Martha Stewart arrangement. Martha Stewart also has been featured at Sears Holdings Corp's (SHLD.O) Kmart.
The J.C. Penney deal is part of an overall uptick in luxury mergers and acquisitions, according to Thomson Reuters data. So far this year, there has been $6.2 billion in luxury deals, compared with $2.3 billion a year ago. This year has been the busiest year in luxury M&A in more than five years, based on the dollar value of the deals, according to Thomson Reuters data.
"Macy's is perceived to be an accessible-but-still-respectable department store. J.C. Penney is viewed as a discounter like Kohl's. It's a step down for Martha," said a second retail banker who declined to be named because he was not authorized to speak to the media.
Vera Wang Group, meanwhile, which sells couture wedding dresses at its flagship store in New York, seems "more destined to be at a Tiffany's than a Zales. It's a risk with Zales," said another retail investment banker.
Vera Wang's bridal jewelry designs at Zales retail for up to
$17,000.
It struck some bankers as odd for Martha Stewart and Vera Wang to be partnering with lower-end retailers at a time when the low-end consumer is still struggling with the weak economy. Meanwhile, the high-end consumer has returned to shopping with confidence, analysts have said.
The reality of retail, however, is that brands need to grow and evolve or they will die, bankers said. Making acquisitions or making licensing deals gives brands new life, they said.
DEALS, ALLIANCES NEEDED FOR GROWTH
"If you want to grow and you want to make money, you have to be cross-channel. But it's not easy to do that and still maintain the cachet of the brand," said a retail consumer banker at a boutique investment firm.
"To grow a brand without diluting it is a core question of the sector. Some players are able to get big but keep a small feeling and an elite feeling," said Boston Consulting Group senior partner Jean-Marc Bellaiche.
"It's the difference between dating and marriage. If you're dating, you don't have control. If you own a brand, you're committed for a long time. It's difficult to find brand-enhancing ways of collaborating," Bellaiche said.
One example of a brand that has successfully achieved a multi-tier strategy of having lower priced sportswear as well as runway couture is Ralph Lauren Corp (RL.N), bankers said.
"It's a pyramid. Runway and couture is at the very top and at the bottom you're selling a lot of jeans and socks in a mix of department stores," one banker explained.
But a brand that strayed too far and tried to appeal to too many audiences and make too many alliances was the Tommy Hilfiger brand, which is owned and marketed by PVH Corp (PVH.N).
"Tommy Hilfiger went very urban and killed themselves in the U.S. They've managed to hold on to some exclusivity in Europe, but in the U.S. they are over," the banker said.
Luxury fashion brand Michael Kors Holdings is slated to price its initial public offering on Wednesday and begin trading on the New York Stock Exchange on Thursday.
Founder and Chief Creative Officer Michael Kors has been careful to focus on A-list names such as Michelle Obama and Heidi Klum, analysts noted.
The offering follows a successful $2.1 billion IPO of Italian fashion house Prada SpA (1913.HK) in Hong Kong and a $487 million IPO of Italian luxury shoemaker Salvatore Ferragamo (SFER.MI).
"If you look at the European luxury conglomerates, they don't push a lot of synergies on the front end. The product, the store, the brand stay unique from others in the company -- there's no diluting on brands," Bellaiche said.
"It's an art," he said. (Reporting by Jessica Halland Gerald E. McCormick) (For more M&A news and our DealZone blog, go to here)
© Thomson Reuters 2023 All rights reserved.