Confident Italian suit wizard enters Russian market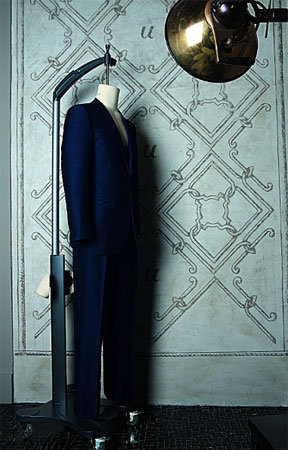 Uman suit
(Reuters Life!) - Italian menswear designer
Umberto Angeloni
, unveiling his new Uman label in Moscow, sees a renewed thirst for luxury in the world's fourth-largest market but said it could do with a re-style.
"In Russia, they hunger once again for luxury," Angeloni told Reuters before opening his first Russian Uman boutique at Moscow's plush TSUM department store late last week.
Foreign designers have been steadily trickling back into Russia over the past year as the world's fourth-largest luxury market recovers from losing a third of its profit at the height of the economic crisis.
"But they (Russians) are a bit behind the learning curve. They are less materialistic than they were but they need to be more about where they are from," Angeloni said, referring to the Russian elite's tendency to dress head-to-toe in designer gear without much input of personal style.
Born in 1952 in Rome, Angeloni transformed Italian label
Brioni
in his near two decades as chief executive from a small family company to one of the world's most prestigious men's luxury brands. He left in 2007.
Like Brioni's suits, Uman's suits -- which he calls "bespoke" -- are hand-stitched and take half a day to make.
Costing 96,100 roubles ($3,136) in Russia, they use single and not assembled panels -- allowing for a clear waistline -- and the collar can be extended like a riding jacket.
They also only come in blue, which is somewhat of a philosophy for Angeloni, who believes the entire world can be communicated through hues of this color.
"There are 20,000 nuances of blue from Picasso to Goethe. Blue triggers creativity and is the color of the soul," Angeloni said.
Launched in Milan last year, Uman last month opened in London after New York, San Fransisco and Paris. Angeloni eyes up to 25 Uman boutiques or stores globally.
(Reporting by Amie Ferris-Rotman, editing by Paul Casciato)
© Thomson Reuters 2022 All rights reserved.