Chico's fourth quarter profit beats estimates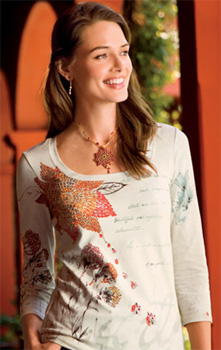 Chico's
NEW YORK, Feb 24 (Reuters) - Clothing retailer Chico's FAS Inc (CHS.N) reported a higher-than-expected quarterly profit on Wednesday 24 February, as revived holiday sales due to improved merchandise boosted results.

The operator of the Chico's, White House Black Market and SOMA Intimates chains also initiated a quarterly cash dividend of 4 cents a share. This is its first quarterly dividend since Chico's FAS became a publicly traded company in March 1993.
Chico's said its net income was $17.5 million, or 10 cents a share in the fourth quarter, compared with a net loss of $40.5 million, or 23 cents a share, a year earlier.
Analysts on average were expecting earnings of 5 cents per share, according to Thomson Reuters I/B/E/S.
Net sales rose about 17 percent to $435.7 million.
After a long sales slump due to uninspiring merchandise and women cutting back on shopping for themselves, Chico's has managed to turn around its business. It has successfully introduced younger-looking fashion and has begun to shed its image as a seller of stuffy clothing.
Sales at stores open for at least a year rose 14.6 percent, boosted by double-digit increases at its Chico's/Soma Intimates brands as well as its White House Black Market brands.
Its direct-to-consumer sales, not included in comparable-store sales, rose 42 percent. (Reporting by Dhanya Skariachan, editing by Gerald E. McCormick and Maureen Bavdek)