Celebs find Fashion Week runways can be slippery
Celebrities launching fashion lines don't always transfer their fame to runway success, but a sprinkling of big names such as Victoria Beckham, Gwen Stefani and twins Mary-Kate and Ashley Olsen are becoming seasoned campaigners.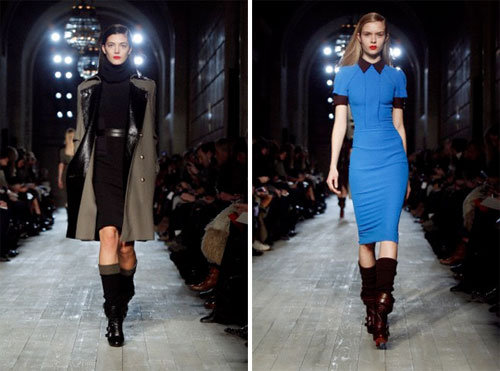 Models on the runway at Victoria Beckham's fall 2012 show at New York Fashion Week (2012)
All four have collections showing during this week's Mercedes-Benz Fashion Week in New York, and while none are as respected as top American designers, they have earned loyal followings by carving out niches, paying attention to tailoring and showing collections away from the glare of the key catwalks.
Celebrities who have tried their hands at fashion have often been criticized or quickly closed their collections.
Jennifer Lopez
and
Lindsay Lohan
both struggled, and
Kanye West
's recent clothing line debut in Paris was lampooned by some.
In the often prickly and elitist world of fashion, stars of movies, music and TV looking to join the club are measured by sometimes harsher standards than up-and-coming or little-known designers, according to experts such as Tracy Taylor, U.S. editor for online fashion magazine Net-A-Porter.
"It's more difficult for a celebrity to launch a clothing line. Honestly, the eyes and ears of the world are on them," Taylor told Reuters, adding that it was not only customers but "the eyes of this rarified group that almost is unattainable for celebrities -- and that's to be a fashion designer."
Being a Hollywood star is wrapped in style and image, so naturally many celebs stray into the world of fashion, she said.
"There's nothing cooler these days than to be a designer. Being a celebrity is great, but I think a lot of them who fancy themselves well-dressed and like to put their best foot forward ... hold designers in high regard."

ORIGINALITY, TAILORING AND TARGETING
But fame alone, does not bring success. In fact, the crucial elements for celebrities to win fashion fans are often the same as for designers without well-known faces or names: originality, flawless design and knowing their target audience.
Rachel Zoe
, who found fame as stylist to celebrities before becoming a reality TV star with "The Rachel Zoe
Project
," has a clothing line showing this week in New York. She told Reuters that crossing over was "the most terrifying thing I've done in a really long time, besides childbirth."
Designing a collection is far riskier than being a stylist or critic. "I've always been in the audience," Zoe said. "To then have my collection out on display for everyone to see, my peers, mentors, and then of course, buyers, customers, editors, photographers, the whole thing is terrifying."
Other reality TV stars have found it hard to build a career. "Project Runway" winner Jay McCarroll often says it is difficult to transfer TV success to respect among fashionistas.
But there have been hits. Jessica Simpson and her sister Ashlee have built a successful clothing line focused on pre-teen girls, ages 7 to 12. Jessica has another collection of clothes, shoes, handbags, jewelry and other accessories for women and plans to launch a maternity clothing line and one for babies.
"She has created a billion-dollar business, which is really remarkable. I can't think of any designer in business for as little time as she who's had that same type of success," said Women's Wear Daily fashion features editor Marc Karimzadeh.
Former Spice Girl Beckham parlayed her personal style into collections featuring body-conscious dresses in strong colors and luxe fabrics like silk and wool cut to flatter women's curves. She has carved out a niche in the market with a cult-like following on both sides of the
Atlantic
, said Taylor.
"She wasn't just a Spice Girl to us. We could tell very early on that she had an incredible design aesthetic and sensibility. I think what really put Victoria Beckham on the map was this incredible silhouette of a dress," she said.
Gwen Stefani's street-chic label L.A.M.B. has built buzz over several seasons in New York, and the Olsen twins, became known for their "boho-chic" style. The twins' label,
The Row
, is an homage to London's Savile Row shopping street known for its shops of fine tailors.
"Their detailing is exquisite. You'll have something like fully workable button holes, which only really you would find in men's suiting. You have these amazing rope shoulders - the cut is incredible," said Taylor.
Taking a more low-key approach with their initial launch several years back -- as have the likes of Justin Timberlake,
Madonna
and
Kate Moss
-- meant the Olsens escaped an onslaught of criticism from top tastemakers focused on the major designers and runways. Doing so gave the Olsens time to build a fan base.
"They want to step to the side and let the clothes speak for themselves, and I think it's been more of a 'slow and steady wins the race,'" said Taylor.
(Writing and additional reporting by Christine Kearney and Jan Paschal, Editing by Bob Tourtellotte)
© Thomson Reuters 2023 All rights reserved.