Cambodia factory faintings put big brands under pressure
July 22 - One by one, Yan Chornai's co-workers slumped to the floor of their garment factory in Cambodia's capital, overcome by the sweltering heat, long shifts and choking stench of chemicals.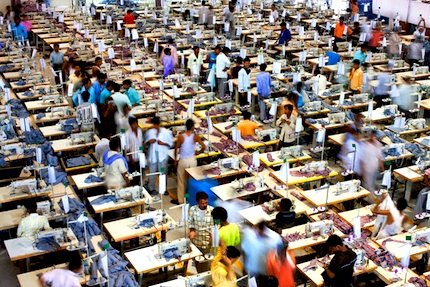 Workers in a textile factory. - photo: corbis
The exact cause of the sudden illness overcoming about 300 workers at the Hung Wah textiles factory this week is unclear. The factory owners have said nothing as dozens of employees like Yan Chornai were being treated in hospital.
"I looked around me and everyone was collapsing, everyone was scared and crying," Yan Chornai, 23, said from her hospital bed, hooked to an intravenous drip.
The faintings at Hung Wah, which produces clothing for Western brands including H&M Hennes & Mauritz AB, were not isolated incidents, but part of a growing trend in the "sweat shops" that provide vital revenue for one of Asia's poorest countries.
In another Phnom Penh factory, King Fashion Garment, around 300 people fell ill over two days early last month for reasons still unknown.
Some of the big brands have launched investigations into what non-governmental organisations say are more than 1,000 faintings this year by garment workers while toiling for long hours, eking out meagre salaries that help feed hundreds of thousands of poor rural families.
Among the big Western firms with clothing produced in Cambodia are Marks and Spencer Group, Tesco, Next and Inditex, the world's biggest clothing retailer and owner of Zara.
Swedish fashion brand H&M said it was consulting state agencies, workers and independent factory inspectors to find out what happened at Hung Wah this week.
"Worker´s health and safety in our supplier factories is of high priority to H&M. Accordingly, we have immediately started investigations as soon as we received information," the company said in an e-mail to Reuters.

VITAL SECTOR

The increase in faintings this year is the latest in a glut of setbacks for an industry that grew 28 percent and generated more than $3 billion last year from its 300,000 workers at scores of factories, owned mostly by Chinese and Taiwan companies.
The garment sector, Cambodia's third-largest currency earner after agriculture and tourism, has been plagued by strikes and protests over working conditions and pay, several spiralling into clashes between the mostly female employees and riot police armed with guns and electric stun batons.
More than 210,000 workers from 95 factories went on strike in September last year over pay, following similar protests in China that raised questions over whether other low-cost Asian manufacturing centres would have to raise salaries.
The current monthly salary for Cambodian garment workers is about $65, a figure employees complain is insufficient in the face of rising domestic food and fuel prices. Many take on excessive overtime to the point of exhaustion in overcrowded, poorly ventilated factories with low safety standards and high exposure to chemicals.
A report in April by Reuters about a spate of illnesses at a factory producing footwear exclusively for Puma prompted the German sports brand to commission an independent inquiry by the Washington-based Fair Labor Association.
It concluded there was a "strong possibility" that an estimated 104 faintings over a two-day period were caused by exposure to chemicals, poor ventilation and exhaustion from excessive hours.
Following the report's release on Monday, Puma moved swiftly, producing a plan limiting working time at the Huey Cheun factory employing 3,400 people to 60 hours per week and overtime to two hours daily.
It also promised health and safety training in the use and storage of chemicals and medical personnel on site at all times.
Chea Mony, president of the Free Trade Union, said government officials were to blame for neglecting workers' rights and corruption in their failure to properly monitor conditions in factories.
"These working environments are not acceptable. We are really concerned about the conditions in all factories," Chea Mony said.
"All of these issues are linked to corruption. Officials must have received favours by allowing this to happen. This is a concern for unions and harmful to workers."

(Editing by Martin Petty)
© Thomson Reuters 2023 All rights reserved.