Brean Murray cuts J. Crew; shares hit life-time low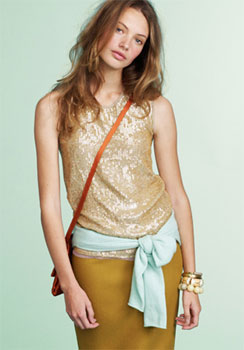 J. Crew fall-winter2008/2009
BANGALORE, Nov 12 (Reuters) - Brean Murray, Carret & Co downgraded J. Crew Group Inc to "sell" from "hold," saying the apparel retailer will need to slash prices earlier than it would like to combat an inventory buildup.
Shares of the preppy clothing company run by Wall Street darling and former Gap Inc CEO Mickey Drexler fell 14 percent to their life-time low of $11.90 in morning trade.
The worst is yet to come for J. Crew, which has continued to reel under a weak economy and a customer base that is not shopping for its "bread and butter basics," Brean Murray analyst Eric Beder wrote in a note to clients.
J. Crew has had to become even more aggressive in discounting than planned to drive sales, Beder said, adding that slashing prices will further reduce the potential for margin integrity.
The inventory overhang that began in the third quarter appears to have remained and J. Crew will not be able to catch up until the first half of 2009, which would leave it still vulnerable to the need to discount to clear out goods, the analyst said.
"As such, even with J. Crew trading near all-time lows, we believe there remains significant risk in the story. We are now sellers," Beder said.
He has a price target of $12 on the stock of the company, which sells its fashions for women, men and children in its stores. J. Crew also has a catalogue and online business.
In the second quarter, the company posted a lower-than-expected profit and cut its 2008 earnings outlook, citing a weak economy and costs related to the launch of Madewell.com, an Internet site for J. Crew's new upscale brand.
Beder said the ramp-up of Madewell personnel and infrastructure hit its peak in 2008, which should be a further drag on the company's margins and results in 2008.
J. Crew stock pared some of its early losses and was down about 10 percent at $12.57 in midday trade on the New York Stock Exchange.
Shares of the company, whose largest rivals include Aeropostale Inc , American Eagle Outfitters Inc , Urban Outfitters Inc and Gap Inc, were trading at above $50 last year. (Reporting by Dilipp S Nag in Bangalore; Editing by Himani Sarkar)
© Thomson Reuters 2022 All rights reserved.