Brand Britain puts heritage on show in Olympic year
LONDON - Britain plans to beam pictures onto Rio de Janeiro's Sugarloaf Mountain and splash images promoting its heritage around airports across the globe as part of an international trade and tourism campaign centred around this summer's London Olympics.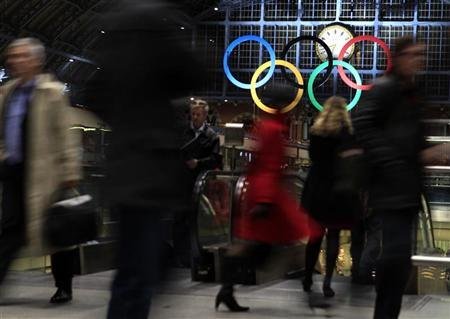 Commuters walk past the Olympic Rings, the symbol of the Olympic Games, at St Pancras international station in London in this March 3, 2011 file photo. / Photo: Reuters

The British government has launched a 39 million pound ($60 million)"GREAT" marketing campaign in the hope it will maximise economic potential and generate long-term growth, giving a lift to an economy that has barely grown during the past year, a British minister said on Saturday.
A total of 17 cities around the world, including Los Angeles, Tokyo, Beijing, New Delhi, and Sydney, will be targeted in Britain's biggest marketing campaign in these locations.
It will also link up with international events such as the Oscars and New York Fashion Week.
"This is a huge, huge opportunity to bang the drum for Britain and for British business and if we didn't use the focus that is happening across the whole world on Britain and London, to do what we can to boost British business and jobs, the country would never forgive us," said Secretary of State for Culture, Media and Sport Jeremy Hunt.
"This is our message to the naysayers who are saying we should be cutting back on investment, we're not just not cutting back we're actually increasing the amount of money going into it," Hunt, who will visit all 17 cities, told Reuters.
"We made a big call that this was going to be a very unique moment, a one-off moment, and therefore we should back it."
The cities were chosen because they offered the best potential for attracting investment, tourism or international students, Hunt said.
Britain also hopes to benefit from the Diamond Jubilee, celebrating Queen Elizabeth's 60-year reign.
The GREAT campaign is backed by leading British businesses as well as figures from the fashion world including Paul Smith and Vivienne Westwood. A role is also being devised for the country's most famous fictional secret agent James Bond.
People arriving at 13 airports will be greeted by posters showing famous images including St John's College at Cambridge University, Stonehenge, Tate Britain and the British Museum.
It is expected to attract an extra billion pounds of inward investment and trade over the next year.
The government, which spent 9.3 billion pounds on the Olympics, also hopes to generate 4.6 million visitors during the next four years and 2.3 billion pounds of tourist spending as well as 60,000 new job opportunities.
"This isn't about six weeks of sport on television, although that will be hugely entertaining, this is about six years of business opportunities that we can get if we play our cards right," Hunt said.
He dismissed fears that tourists will stay away from Britain because of the Olympics and said the country had moved on from the "inevitable short-term impact" caused by last summer's riots in London and other English cities.
"I personally think that there will be less displacement than many people feel because London is such a huge cultural city, and there are going to be huge numbers of reasons for people to visit," he said citing exhibitions planned for its leading art galleries.
($1 = 0.6490 British pounds) (Reporting by Avril Ormsby)
© Thomson Reuters 2022 All rights reserved.