Bloggers carry growing fashion industry influence
NEW YORK, Sept 15 (Reuters) - New York Fashion Week has long been the realm of magazine editors and department store buyers, but now a growing number of online fashionistas are wielding some unlikely industry influence.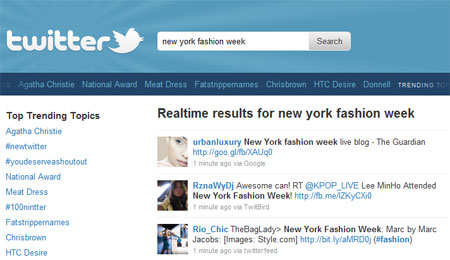 Twitter: NY fashion week search results
Typically equipped with just a smartphone, bloggers and tweeters are telling the world about designers' collections for spring/summer 2011 -- which won't be for sale in stores for months -- within seconds of models hitting the runways.
Online media at fashion week has grown 20 percent in the past six months, said organizer IMG, and now accounts for about 40 percent of the 3,600 members of the press covering the event. They also follow fashion trends outside the invitation-only venues.
"We do pay attention to it ... It's important to be aware of what they are blogging about and what's inspiring them," said Colleen Sherin,
Saks Fifth Avenue
fashion market director. "Some of the things we might have been seeing on the street are perhaps now brought to us by the Internet."
Retail strategist and trend forecaster The Doneger Group even published a list of who it considered to be the key New York Fashion Week bloggers and tweeters to follow.
"Bloggers and tweeters are becoming even more important as they provide consumers an inside look into the latest trends and styles," said David Wolfe, Doneger's creative director.
Among the bloggers to make that list are 14-year-old Tavi Gevinson from the Chicago suburbs, who began her blog www.thestylerookie.com when she was 11, and Susanna Lau, 26, from London, with www.stylebubble.co.uk.
There are also plenty of regular shoppers posting so-called "haul videos" on YouTube, some of which have been viewed hundreds of thousands of times. The concept is simple -- shoppers make videos showing off their recent purchases, giving the industry an insight into what trends are selling.
NUMBERS DETERMINE SUCCESS
Despite speculation over whether Gevinson has help writing her blog, which she has denied, the petite teenager has grabbed the attention of designers, including
Karl Lagerfeld
and
John Galliano
, and receives sought-after fashion show invitations.
This week she was the subject of an eight-page profile in The
New Yorker
magazine, which reported that she recently spoke about the buying habits of her peers at a $1,000-a-ticket marketing conference in New York.
"When I post about something, it's because I like it," Gevinson told The New Yorker magazine, describing her blog as "fangirling" instead of journalism. During the Fashion's Night Out campaign on Friday to get people shopping, she was guest tweeting for Barney's and made an appearance at the store.
Lau has been writing her blog about fashion she liked and about her inspirations four years ago and said it was spurred by the boredom of working for a digital advertising agency at the time. She now works full-time on her blog, which gets 25,000 hits a day, and has 70,000 followers on Twitter.
But after spending the past two years editing the website for British style magazine Dazed & Confused, Lau understands the hierarchy in fashion and that bloggers will have to go through a period of assessment to work out where they fit in.
"There are a handful of bloggers that should be at shows, but the front row is a different matter all together. I feel like you need to earn your place," she said. "There are plenty bloggers that are super-talented, but they also haven't put in the time."
An online hierarchy would be determined much the same way as traditional media -- by looking at the numbers, said Steven Kolb, executive director of the
Council of Fashion Designers of America
(CFDA). He said for the first time this year, bloggers were among the judges for the CFDA's annual awards.
"Who rises to the top and who is credible is determined not that much differently from how The New York Times became such a big paper," he said. "The people that are going to get the numbers ... are the ones that are going to have a point of view, insight and are credible.
"Not to embrace blogging, tweeting and social networking is ultimately bad for somebody's business," he said.
(Additional reporting by Christine Kearney, editing by Ellen Wulfhorst and Paul Simao)
© Thomson Reuters 2023 All rights reserved.