Ambitious Chinese garden blossoms in California
By Mary Milliken
SAN MARINO, California (Reuters Life!) - Beyond the Wall of the Colorful Clouds and around the Lake of Reflected Fragrance, the largest traditional Chinese garden in the United States to date has sprung from the soil of Southern California.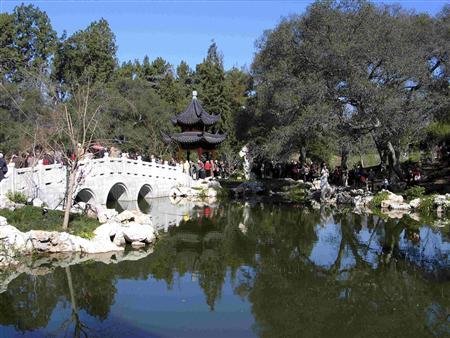 Ten years in the making, Liu Fang Yuan, or the Garden of Flowing Fragrance, opened this month on the expansive grounds of The Huntington, a hallowed cultural institution outside Los Angeles.
Constructed with $18 million in private funding and craftsmen from China, the garden reflects the growing prosperity not only of the Asian giant but also of the burgeoning Chinese-American community in these parts.
"This is the only (U.S.) Chinese garden in a public institution that is funded entirely by private and grant moneys, with no political backing or involvement," said Liu Fang Yuan curator June Li, who was born in Hong Kong.
In its first phase, the garden covers 3.5 acres (1.4 hectares) of the 12 acres set aside for the Chinese project at The Huntington, which also boasts Japanese, Australian and desert gardens on the estate's 200 acres (81 hectares).
Within the four-season Chinese garden, there is a lake, a brook, bridges, a complex of pavilions, a teahouse, a tea shop and the signature Chinese scholar's rocks.
Classical Chinese gardens are intimately linked to that country's artistic and literary traditions and imagery from nature is frequently found in painting, poetry, music and fiction. The reverse is true also, with cultural arts incorporated in garden design.
The California garden draws largely on the 17th century of the Ming dynasty, when many gardens were built and owned by wealthy merchants and scholar-officials.
But applying 400-year-old techniques to modern California was no easy task. Li said the team of botanists, engineers and architects "weathered many difficulties" like translating measurements, drawings and codes.
One of the biggest challenges was building the garden to meet the strict seismic requirements of Southern California -- something the Chinese partners from the city of Suzhou had never done in decades of engineering Chinese gardens.
With names like The Bridge of Strolling in the Moonlight and the Pavilion for Washing Away Thoughts, Liu Fang Yuan invites visitors to purify the mind and contemplate a soothing landscape enhanced by the purple San Gabriel Mountains.
As the couplet on the teahouse courtyard says: "Enter as a hundred cares vanish. Laugh as the great river expands."
© Thomson Reuters 2021 All rights reserved.